Unique accommodation near Lake Geneva
Geneva has more to offer than simply the Jet d'Eau, its famous fountain. The city also has wonderful parks and plenty of shopping, and hosts international organizations such as the UN, the WHO, and more.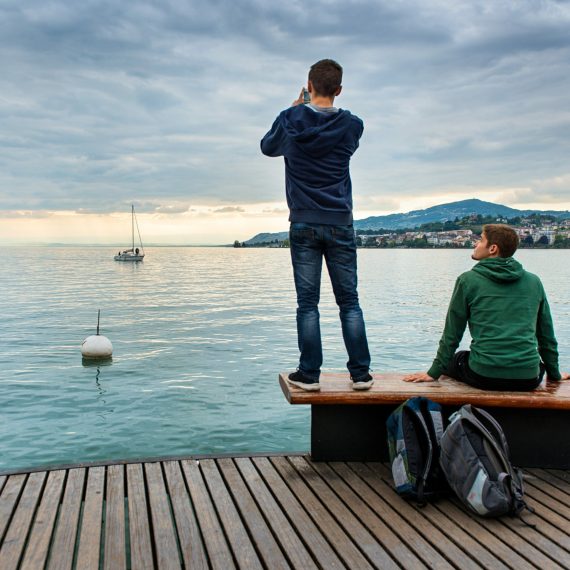 Geneva is the perfect place to combine business and pleasure.
Geneva, the city of Calvin and Rousseau, is located in the south-western corner of the French-speaking part of Switzerland (Romandie) and is within easy reach by train, car or plane. As the second largest city of Switzerland with a population of approximately 195,000, its landmark is the famous Jet d'Eau, a huge water fountain in the middle of Lake Geneva. Located directly on the shore of the lake, against the majestic backdrop of the Alps, this cosmopolitan city combines French lightness and Mediterranean flair with Swiss precision.
Geneva is among the cities with the world's highest quality of life. Its romantic old town, beautiful parks, rich culture, many sights and shopping opportunities are very popular with tourists from all around the world. As in other Swiss cities, you will find a wide range of accommodations, including hotels in every price class, inexpensive apartments, ideally-located bed & breakfasts, rooms and cosy private lodgings near the lake with great views.
Although Geneva is one of the most expensive cities, one can discover a lot even with a small budget. Why not take a tour through the old town on a Segway? Or take a walk along the wine trail in Dardagny? Well worth a visit is the "Broken Chair", a work of art made of wood that symbolizes the fight against landmines. And, if you want to get to know the beauty of Geneva and the surrounding region from a completely different point of view, you will particularly enjoy a lake cruise which passes by beautiful vineyards and picturesque castles.
Geneva is the headquarters of many international organisations, including UN, CERN, ICRC, WHO, WTO, ILO, and UNHCR, and is perceived around the world as a city of peace, international conferences, and humanitarian aid. Geneva is also world famous for its watch industry. The annual Salon International de la Haute Horlogerie (clock and watch fair) attracts thousands of interested visitors from all over the world and, together with the much-acclaimed Geneva International Motor Show, underlines the international character of this diverse city.