Accommodation Options in the Fribourg/Freiburg Region
A landscape from a different age, shaped by custom and tradition. Book unique accommodation – a holiday apartment, B&B or hotel – and fall under the spell of the Fribourg/Freiburg region.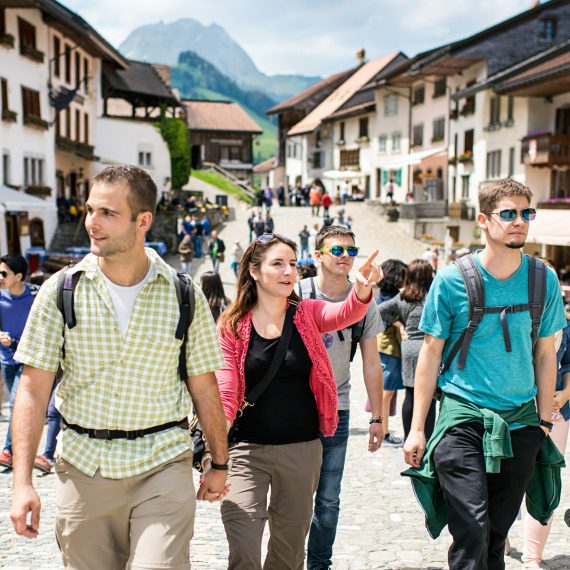 Unique accommodation in a multifaceted region.
Tradition as far as the eye can see
The French and German-speaking region of Fribourg/Freiburg is known throughout Switzerland for its tasty cheese, creamy milk, Gruyère double cream, and the finest meringues.

The cows spend the entire summer consuming the various herbs that grow on their high mountain pastures, giving their milk and the Alpine cheese that is made from it their unique flavor.
A special event takes place in the spring and in the fall, as the herdsmen drive their cows and sheep up to the alp, and then back down to the valley. The Alpaufzug/montée à l'alpage and Alpabzug/désalpe respectively are two of the best-known traditional alpine festivals. The cows wear magnificent bells and colorful flower arrangements on their heads. Meanwhile, the herdsmen dress in their brezdon (jacket) and the women in their dzaquillon (haymaking outfit).
Various villages also hold their own Swiss wrestling tournaments. Swiss wrestling is a national sport, in which the winner is rewarded not by money, but by cowbells. The overall winner is presented with a muni, or bull. Top wrestlers are known throughout Switzerland and enjoy sports celebrity status.
Anyone wanting to get away from it all after all these festivities should take a trip to the Schwarzsee lake at the eastern end of Fribourg's alpine foothills. The area is known for its romantic, untouched scenery and the Breccaschlund, a mystical valley formed by glaciers. Starting in Riggiswald, an easy circular walk takes you from alpine hostelry to alpine hostelry and then back into the valley.

If you prefer to take it a little easier, stroll through the medieval city of Fribourg, stop for a coffee, and drink in your bilingual surroundings.
There are pretty accommodation options in bed and breakfasts, apartments, homestays and hotels, with host families who still set great store by tradition and personal hospitality.
Discover Switzerland with our host offers
Book Unique Rooms, Apartments and Activities, and Experience Hospitality at its Best!
Guaranteed quality for more than 25 years
No reservation fee for booking inquiries
700 rooms, apartments, and out-of-the-ordinary accommodation options
Wide choice of authentic experiences
A personal welcome at the door