Introducing the BnB Switzerland Team
Introducing Us
Our journey began more than 25 years ago, and the team has been growing steadily ever since. We're delighted to introduce the people who handle our marketing, represent us publicly, translate for us, and who take care of quality assurance.
Head office in Arlesheim
For booking inquiries or information on facilities or occupancy, please contact the accommodation host directly. You will find the phone number on their page.
---
Out and about for BnB Switzerland
Stephan Weber
Inspector

Covering mainly Eastern Switzerland, our inspector Stephan is a real globetrotter. When not out checking accommodation for BnB Switzerland, he's off discovering other corners of the planet. Criss-crossing the world, there's no time to be bored, whether diving in Egypt, on safari in Namibia, snorkeling in the Seychelles, touring Chile, or an excursion to the Antarctic. That's not to say he doesn't love coming home to Switzerland. Stephan's special recommendations are Lenzerheide in Canton Graubünden, and the picturesque valleys of the Ticino.
Gaby Waltenspül
Inspector

Gaby's roots are in the Valais, but she caught the travel bug at an early age. She spent 40 years in the travel industry and hotel sector, and has run her own B&B. Although she has been around the world and seen many of its amazing places, coming home she recognizes what a stunning and diverse place our quadrilingual country is. Gaby is our newest inspector and is looking forward to her forthcoming 'Tour de Suisse' and to getting to know our hosts. Her insider tip is the mountain landscape and the straightforward, down-to-earth people who live there.
Raphael Fuchs
Inspector

Raphael says himself that the past ten years as a classification consultant for BnB Switzerland have been a huge pleasure that has made him fall even more in love with the country's beauty. That's why he even spends his free time exploring at home – when he isn't playing the Schwyzerörgeli accordion that is so much the sound of Switzerland. He recommends exploring the four grottoes on the Via ai Grotti near Biasca. Gaze at the glorious view if it's sunny, or enjoy the waterfall.
---
Working away in the background
Birgit Dietrich
German and Italian Translator

Our translator Birgit was born in Germany, grew up in Milan, and in 1974 moved to Zurich to study. She was captivated by Switzerland's linguistic, scenic, and cultural diversity right from the start. Nowadays she lives in a romantic little town in Canton Aargau, where she enjoys unhurried hours with a good book and her cat on her knee, or concert-going with friends at one of Switzerland's stunning music venues. Her insider tip is the Saanenland – a magical area that attracts not only hikers and sports fans, but also music-lovers.
Nathalie Métral
French Translator

A proud native of Canton Vaud, Nathalie loves travelling and getting to know other cultures. As a student she lived for a time in various European countries, but found that they only highlighted the stunning beauty of Switzerland's scenery. As a keen climber, she often spends her vacation with family or friends finding new rock faces to scale. When not wrestling with the intricacies of foreign languages, she spends her time introducing her children to the wonders of nature. Her insider tip for Switzerland is the Les Paccots area in Alpine foothills of Canton Fribourg.
Jane Catterall
English Translator

Jane's love of Switzerland began in 1989, when she spent a summer on a campsite in the Valais. After a detour via the media industry, she discovered her true calling as a language professional. Born in England and now the proud possessor of a Swiss passport, Jane has been here for 22 years now and couldn't be happier. When she's not translating, you'll meet her and her beloved Westie Finn on a hiking path somewhere in Switzerland. Her insider tips are the Gemmi Pass, the 5 Lakes Walk around Zermatt, and the scenic Panoramaweg in Canton Schwyz.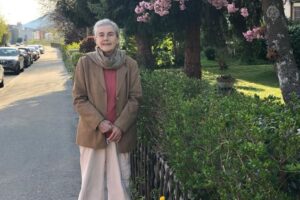 Verena Witschi
Translator

---
24/7 security
Chaya
Surveillance and Security

Chaya is our professional mail monitor, and is also on 24/7 standby to protect the office against potential intruders. She recently passed her team leader training with flying colors. With the skills she gained, she keeps the office in line, and has graduated to become chief greeter. Handing over control of the Food and Beverage department has given her more time to guard not only the house, but now the whole street as well. She recommends a good walk on the Piz Nair in Graubünden with the cool wind in your hair. Unbeatable!
Luna
Head of Food & Beverage (Eating & Drinking) Department

She's a little whirlwind, but Luna hasn't yet seen much of Switzerland. She's lively and extremely alert, enabling her to keep an eye on everything both during and after office hours. Her job is to snaffle any food dropped by careless humans and to process it appropriately ready for clean-up. She recommends walks through the forests of Basel-Landschaft with the sun tickling your nose.
---
We have no vacancies at present.