Glittering Lakes and the Great Outdoors!
Lovers of peace and quiet, open spaces, and hiking trails will feel right at home here. Discover places to stay in this French and German-speaking region.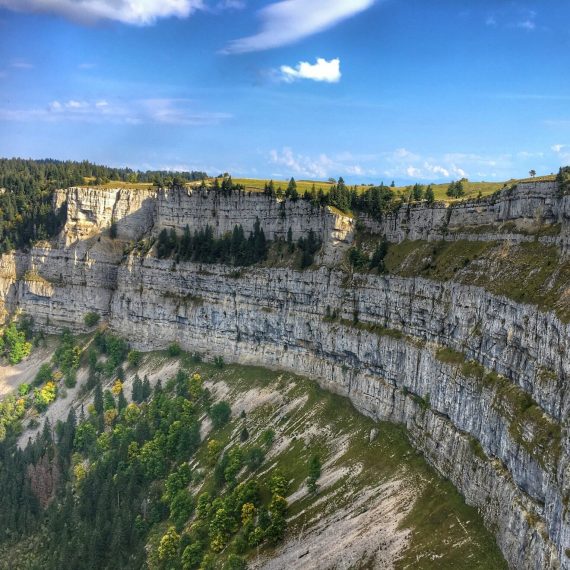 After a packed day, enjoy the sunset hours at a comfortable B&B.
Sunset at the Creux du Van is an incomparable experience.
Whether you visit in winter or summer, the Jura & Three Lakes region offers a breathtaking natural backdrop for your stay. The Creux du Van, for example, is a gigantic natural amphitheater with vertical rock walls that rise over 160 m above the deep valley basin below. The view from the top of the horseshoe is a spectacular 360-degree panorama of the lakes of the central plateau, the Alps, the valleys of the Jura, and France.
Anyone who has not yet seen a wetland landscape should head to the Etang de la Gruyère nature reserve. The upland moor extends across 56 hectares and has a peat layer that is nine meters thick, formed since the end of the ice ages. In the 17th century, an earthwork was built to dam the pond to operate a mill. A circular path leads around this blackest of lakes.
A trip to St. Peter's Island on Lake Biel or a visit to Grandson Castle should also be on your list of things to see. And if that isn't enough for you, walk the Crête du Chasseral ridge, along a magical path through forests, meadows, and a karst landscape with countless natural sinkholes. You can see across the entire central plateau down to the Alps.
Don't ignore the region's charming towns and villages, however. Among the best-known are Biel/Bienne, Neûchatel, Murten, Delémont, St-Ursanne, Estavayer-le-Lac, Payerne, Yverdon-les-Bains and La Chaux-de-Fonds. They invite you to stroll and relax as you browse their boutiques and stop for a bite at their local restaurants.
Discover Switzerland with our host offers
Book Unique Rooms, Apartments and Activities, and Experience Hospitality at its Best!
Guaranteed quality for more than 25 years
No reservation fee for booking inquiries
700 rooms, apartments, and out-of-the-ordinary accommodation options
Wide choice of authentic experiences
A personal welcome at the door