Discover Geneva and the Lake Geneva Region
Majestic mountains and glittering lakes. Visitors to the Geneva region tend to fall in love with the landscape at first sight.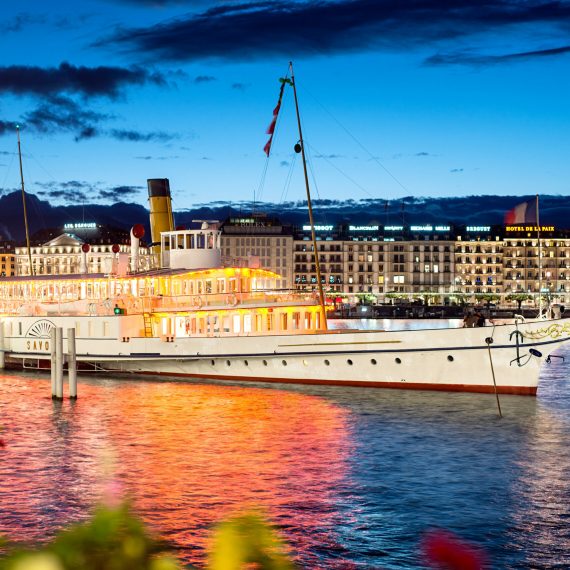 Relax on the balcony with a glass of fine white wine.
Enjoy a hike through the Vaud Alps, and then rest in a comfortable room where your host has thought of everything.
The region extends from Geneva, along Lake Geneva to the Vaud Alps and north to lakes Neuchâtel and Murten.
This year-round destination offers endless variety. Downhill skiing, dry tobogganing, night sledging, cross-country skiing, snowshoeing, and snowtubing are just a few of the winter activities available in Villars, Gryon, Les Diablerets, Leysin and Yverdon-les-Bains, or on Glacier 3000.
Those who prefer the warmer months and getting around under their own steam will find countless hiking and biking paths through the rolling landscape of Canton Vaud. If you don't want to walk, you can still climb the area's highest peaks on their cog railways.
There's no shortage of things to do and see, such as Chillon Castle, or the Jet d'Eau fountain that is so emblematic of Geneva. There are cultural offerings, too, the most well-known of which are perhaps the Montreux Jazz Festival and the Chaplin Museum.
Anyone on the search for a peaceful idyll is in the right place in this center of wine tourism. The slopes surrounding of Canton Vaud's lakes are swathed with vines bursting with white grape varieties.
Culture, sports, and scenery: depending on your interests and the time of year, the region is definitely worth exploring.
You'll find a place to stay in any number of classified bed and breakfasts. Your hosts will be delighted to see you, and happy to share their tips about the region and any activities that you'd like to do. After a day of adventuring, relax on your balcony or the terrace, and enjoy a glass of local white wine.
Discover Switzerland with our host offers
Book Unique Rooms, Apartments and Activities, and Experience Hospitality at its Best!
Guaranteed quality for more than 25 years
No reservation fee for booking inquiries
700 rooms, apartments, and out-of-the-ordinary accommodation options
Wide choice of authentic experiences
A personal welcome at the door