Stay in Lucerne – on beautiful Lake Lucerne
An impressive Alpine panorama, a glistening lake and so much to see. Few Swiss cities offer as much variety as Lucerne. Whether it's appetite or action – there's something for everyone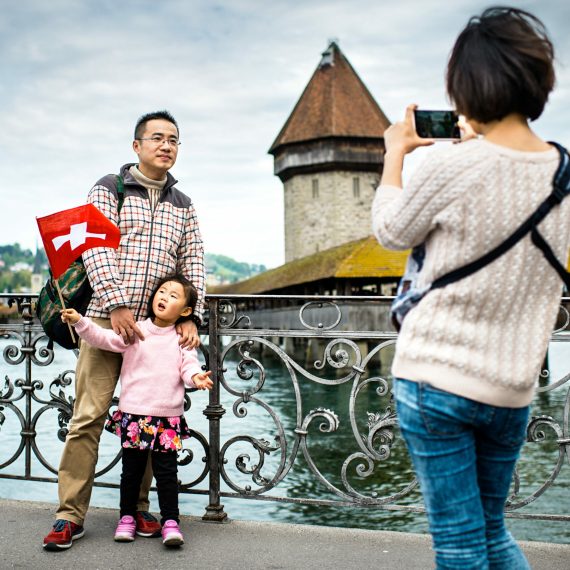 Book charming accommodation in Lucerne, the City of Lights.
Book a place to stay and discover perhaps the prettiest city in Switzerland.
Located on Lake Lucerne, the town has about 80,000 inhabitants. Thanks to its picturesque location between Pilatus and Rigi, the many local attractions, plus its wide range of hotels, bed & breakfasts, apartments, rooms or private accommodations, Lucerne developed in the mid 1800's into a popular tourist destination that is visited every year by millions of tourists from around the world.
Lucerne is the ideal starting point for excursions into the surrounding mountains, or for pleasure cruises on Lake Lucerne, including on one of the five nostalgic paddle steamers. One of the most famous landmarks is the 14th-century Chapel Bridge, the oldest and second longest covered wooden bridge in Europe. In the gables of the bridge are triangular paintings representing scenes of Swiss history.
After a fire destroyed a large part of the bridge in 1993, it was rebuilt and in less than a year reopened to the public. Unfortunately, only a few of the numerous wood panels were able to be restored. The octagonal water tower (built before the bridge at the beginning of the 14th century) served many functions, including as a treasury, archive, prison, and torture chamber.
The Lion Monument is one of the best known attractions in Lucerne. The dying lion, an allegory commemorating the fallen Swiss Guards during the French Revolution, was hewn from sandstone cliffs. Also worth visiting is the Jesuit Church, a magnificent baroque building, which hosts worship services in addition to musical events. Located on the lake is the KKL (Culture + Convention Centre of Lucerne), an outstanding architectural masterpiece, which opened in 1998 with a concert by the Berlin Philharmonic. The concert hall is considered one of the best for its top-class acoustics, and attracts internationally-renowned artists and music lovers from around the world.
Discover Switzerland with our host offers
Book Unique Rooms, Apartments and Activities, and Experience Hospitality at its Best!
Guaranteed quality for more than 25 years
No reservation fee for booking inquiries
700 rooms, apartments, and out-of-the-ordinary accommodation options
Wide choice of authentic experiences
A personal welcome at the door