Stay in stunning Thun
Stay on the banks of Lake Thun, with a view of the Eiger, Mönch and Jungfrau. You'll get the break you need, and can explore all that Thun and its surroundings have to offer.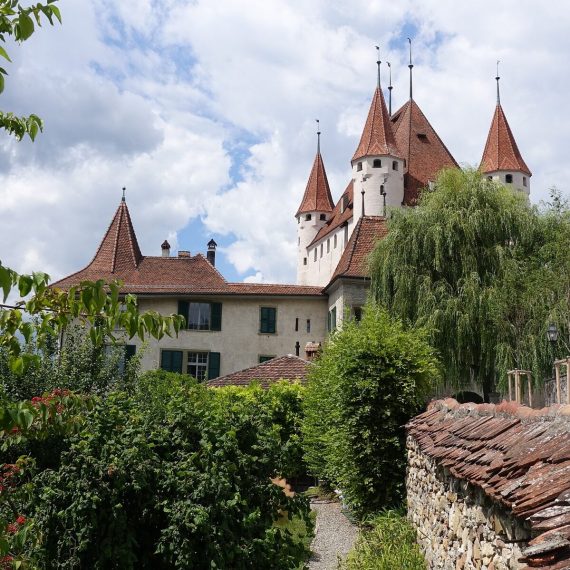 Mountains, lakes and an incredible range of activities – even if it rains!
The old town started in the 12th century when the castle was built, and was later extended to today's upper Hauptgasse. The raised sidewalks. The beautiful city of Thun (around 45,000 inhabitants) is located in an idyllic setting at the lower end of Lake Thun. Stunning views of the mountains Eiger, Mönch, and Jungfau. Thun is considered a gateway to the Bernese Oberland and an ideal starting point for a variety of adventures, including hikes through the unique mountain world, exciting excursions into the Gantrisch Nature Park, a romantic sunset cruise on Lake Thun, and much more.
At the beginning of the 19th century when tourism emerged in the Bernese Oberland, Thun developed into a popular tourist place by constructing hotels in all price categories and offering a wide selection of bed & breakfasts, apartments, rooms, and private accommodations. Not only is Thun a beautiful location, it is also as a great setting for cultural events, such as the Thuner Seefestspiele (open-air musical) and the Schlosskonzert (concerts in the castle), which annually attract enthusiastic visitors from near and far. Special attractions include the picturesque old town, numerous cafes, and shops of all kinds encouraging visitors to stroll and linger. Overlooking the city's narrow alleys and historic buildings is the imposing castle, the landmark of Thun
On the other shore of the lake is Interlaken, the perfect starting point for all sorts of excursions. More than 45 mountain railways, cablecars, chairlifts and ski lifts take you up and away to a dense network of hiking paths and ski runs. There are 210 kilometers of pistes in the Jungfrau ski region alone. The town is situated in a long, narrow valley between emerald-green Lake Thun and Lake Brienz. Particularly popular is paragliding, with a breathtaking 360-degree view of the Swiss Alps and lakes.
Discover Switzerland with our host offers
Book Unique Rooms, Apartments and Activities, and Experience Hospitality at its Best!
Guaranteed quality for more than 25 years
No reservation fee for booking inquiries
700 rooms, apartments, and out-of-the-ordinary accommodation options
Wide choice of authentic experiences
A personal welcome at the door