Winter Sports in Switzerland
A rustic chalet, simple room, or an apartment with its own entrance – with a kitchenette as well, or right by the piste? Yes, please!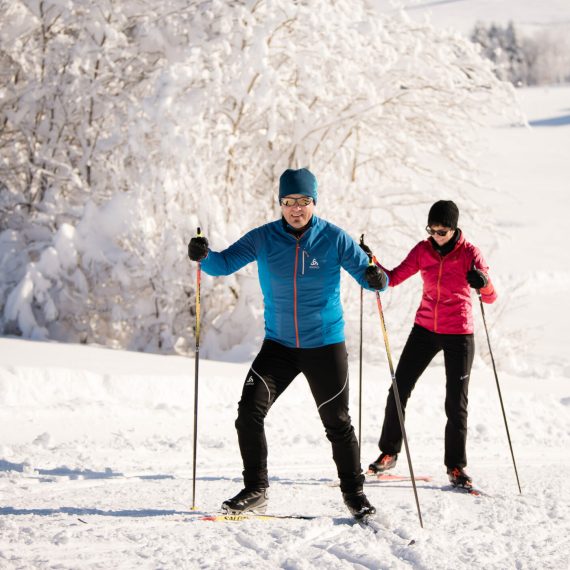 Find a place to stay for your winter sports experience in Switzerland.
Switzerland – paradise for winter sports fans.
Cross-country or downhill skiing, snowshoeing, snowboarding, sledging, or a winter walk – the possibilities in Switzerland are almost endless, and the evening R&R is just as important as the fun you'll have on the mountain during the day.
That's why, a few years ago, we introduced the special 'Ideal for winter sports fans' category to make it easier to find the right accommodation.
In other words, the best accommodation for winter sports fans is in the mountains, has a ski/snowboard/boot room, and isn't far from the lift/gondola/cross-country ski trail – that's no more than 15 minutes on foot or by bus or car. And there'll be a map in your room showing the relevant ski areas and lift prices.
What's more, your hosts will be happy to give you insider tips on popular ski runs and tours, as well as nearby restaurants serving mouth-watering food. If you plan to stay for a whole week, it's worth asking about special rates.
You'll find other accommodation in the mountains or close to skiing areas that doesn't explicitly meet the criteria to be classified as 'Ideal for winter sports fans'. The difference might simply be that there is no dedicated ski room.
You'll find exciting winter activities and suggested routes at www.schweizmobil.ch.
Discover Switzerland with our host offers
Book Unique Rooms, Apartments and Activities, and Experience Hospitality at its Best!
Guaranteed quality for more than 25 years
No reservation fee for booking inquiries
700 rooms, apartments, and out-of-the-ordinary accommodation options
Wide choice of authentic experiences
A personal welcome at the door