Motorcycle Vacations
Explore Switzerland from a different angle. After a healthy breakfast, take your bike out along stunning pass roads. It's just as liberating as it sounds. And when you get back, you'll have a secure place to park.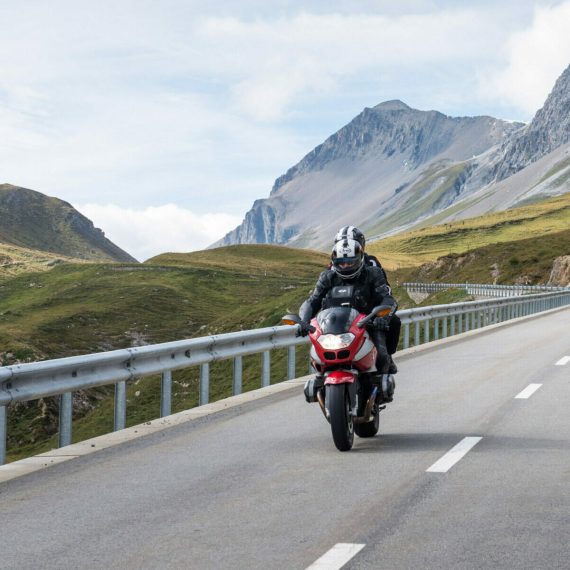 Discover perfect places to stay for motorcyclists.
Take your bike out over Switzerland's most stunning passes.
Wherever there are mountains, there are passes, and pass roads. The Bernina, Furka, Klausen and Gotthard are just a few examples of passes that hold an enduring, almost magical appeal to large numbers of motorcyclists.
Whether you're on vacation, touring or just having a day out, after your biking adventures you can hang up your helmet at one of these selected accommodation options, and park your bike in a secure and protected spot. And you can wash and dry your clothes for free or a small fee.
If you're tired and hungry, but don't want to clamber back into your bike gear to get something to eat, you can get a meal in house or within walking distance of your accommodation.
Your hosts will be happy to help you plan the next day's route and, if you like (and for a small charge), will send you on your way with a packed lunch. Start off now by downloading the BnB Switzerland app. On your next trip you'll then be able to book quickly and easily while you're on the road. Phone numbers are public, so you can also get in touch with your host families if you need to.
Discover Switzerland with our host offers
Book Unique Rooms, Apartments and Activities, and Experience Hospitality at its Best!
Guaranteed quality for more than 25 years
No reservation fee for booking inquiries
700 rooms, apartments, and out-of-the-ordinary accommodation options
Wide choice of authentic experiences
A personal welcome at the door