Bern, Switzerland's Capital City
There is so much to explore in the lively and welcoming city of Bern, on its promontory in the Aare River. Visit the Zytglogge clocktower, the BearPark, the Parliament Building, or the lovely shops in the six kilometers of arcades.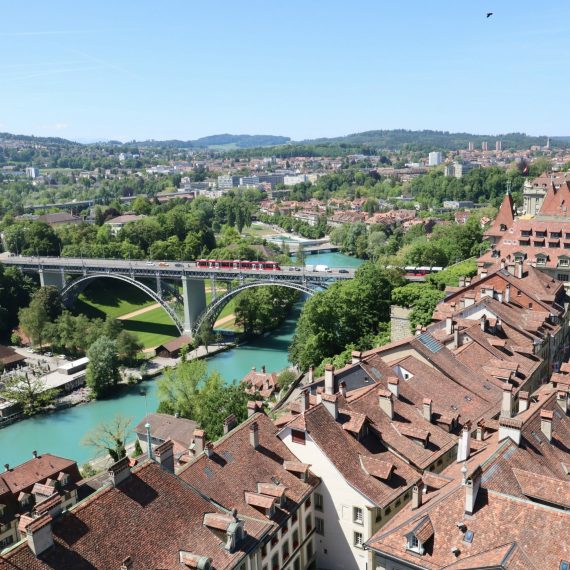 So much variety! Sightseeing, swimming, shopping, and much more.
Bern is the capital and seat of the Government of Switzerland.
The parliament building (known as Bundeshaus) with its distinctive, widely-visible dome and architecture of the Florentine Renaissance is the seat of the Swiss Government. Located in front of the Bundeshaus, the Bundesplatz (with its prominent fountains) is a popular meeting place on which state receptions, demonstrations, various events are held, including the twice-weekly vegetable, fruit and flower market. Bern is not only a city of civil servants, but also a hospitable, vibrant and welcoming city that fascinates visitors from near and far.
Uniquely located on a peninsula in the River Aare, Bern is known for its flowers, fountains, Bear Pit, its cultural wealth. Even Johann Wolfgang von Goethe was unable to escape the charm of the Swiss capital. So, he wrote in a letter to his girlfriend Charlotte von Stein: "It is the most beautiful we've seen!" Who does not succumb to the charm of the old town with its medieval streets and over 100 wells, and which was recorded in 1983 on the list of UNESCO World Heritage? The historic sandstone buildings and their arcades form the longest covered shopping promenade in Europe, and invite you to leisurely window shop in all types of weather.
The Cathedral (the largest medieval church in Switzerland) is characteristic of the old town of Bern. From its tower, you can enjoy a magnificent view of the city and the impressive mountains of the Bernese Oberland. The clock tower (the first western gate of the city) features an astronomical calendar clock and moving figures that perform every hour, and is one of the main tourist attractions. The Bear Park, the former residence of Albert Einstein, and the world famous Paul Klee Centre are also noteworthy sites. Bern has even more to offer. Those who want to get to know this multi-faceted city even better by spending the night there, will find small and large hotels, plus a variety of low-cost flats, bed & breakfasts, rooms and private accommodations in every price range.
Discover Switzerland with our host offers
Book Unique Rooms, Apartments and Activities, and Experience Hospitality at its Best!
Guaranteed quality for more than 25 years
No reservation fee for booking inquiries
700 rooms, apartments, and out-of-the-ordinary accommodation options
Wide choice of authentic experiences
A personal welcome at the door