Discover Basel
The city of trade fairs and culture has a softer side, with a lovely old town, countless museums, and the Basel carnival, known locally as the drey scheenste Dääg [best three days!]. Discover the delightful old-town apartments right on the River Rhine.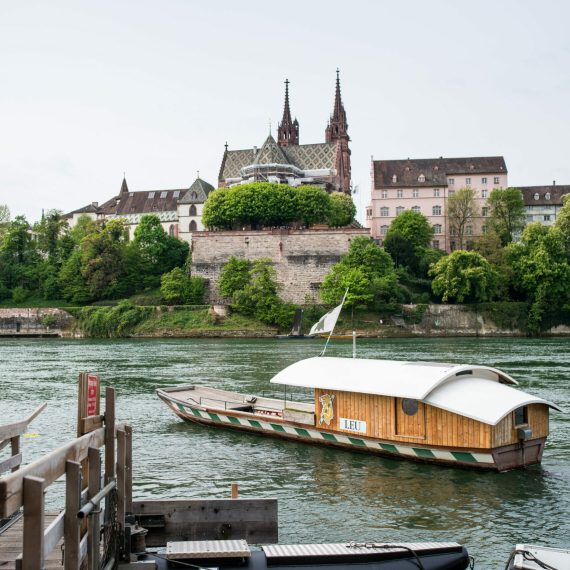 More than chemicals and pharmaceuticals, Basel has plenty of charm and culture, too
Basel (the cosmopolitan trade fair and cultural city) is located at the three-country-triangle that joins Switzerland, Germany, and France on both sides of the Rhine River. Basel is the third largest city in Switzerland with 173,000 inhabitants. To get from Grossbasel to Kleinbasel you can cross the river on one of the oldest Rhine bridges (Mittlere Brücke) or take one of the unique Rhine ferries that moves you comfortably from one side to the other. Basel's medieval old town (one of the most beautiful in Europe) is particularly popular with tourists. This is where the world-famous Fasnacht (carnival) takes place annually, featuring traditional piccolo and drum groups accompanied by lantern parades. The best way to discover the picturesque old town is by using the five officially-marked tours.
The most impressive sights include the Spalentor, the Münster (cathedral) and the Rathaus (town hall) on the Marktplatz. Basel is regarded internationally as an attractive location for the chemical and pharmaceutical industry, and world-wide leaders (such as Novartis and Hoffmann-La Roche) are among the largest employers of Switzerland. In addition to having the oldest university of Switzerland (founded 1460), Basel proudly hosts numerous museums with high-profile collections (e.g. Foundation Beyeler, Kunstmuseum (art museum)), many diverse cultural events and leading international trade fairs (including the BASELWORLD and Art Basel), as well as impressive examples of contemporary architecture (e.g., by Herzog & de Meuron, or Mario Botta). These and other interesting sites enthuse visitors every year. For all those who would like to spend the night in Basel or finish the evening with a relaxing dinner, you will find a wide range of historic hotels, bed & breakfasts, family-owned inn, apartments in central locations, rooms or private accommodations, as well as excellent restaurants or cosy old town pubs.