Traditional Chalets in the Valais
Watch the world go by as you relax and recharge. With over 300 days of blue sky every year, we can rightly claim that the Valais is spoilt for sun.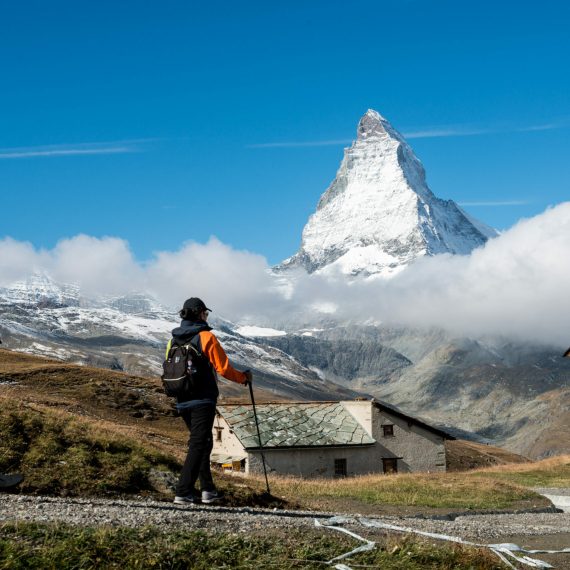 Hiking, skiing, and mountain-biking – experience the beauty of the Valais for yourself
Alongside snowy mountains, glaciers and expansive vineyards, the region invites you to enjoy some fantastic food and drink
Linguistically, the Valais is split – French in the Lower Valais and German in the Upper Valais. Mind you, the somewhat rustic dialect of the latter can be difficult to understand even if you're Swiss.
Winter
If you love winter sports, you'll love the Valais. Countless pistes surrounded by majestic 4000-ers are bound to put a smile on your face. Snow is guaranteed on the 2,400 km of runs, because the region is home to the highest ski areas in Switzerland. The Matterhorn near Zermatt is known around the world, but there is more to the Valais than that – the Aletsch Glacier, for example. This stunning ice flow is a UNESCO World Heritage Site, and the largest and longest glacier in the Alps.
Tradition
You'll encounter Valais traditions no matter what the time of year. During carnival season, for example, masked "Tschäggättä" wearing animal skins, terrifying hand-carved wooden masks and cowbells appear in narrow alleyways and give anyone out after closing time a proper fright. Cow-fighting is another tradition, in which the powerful Herens breed compete to be queen. They're special in that they fight each other for their place in the herd hierarchy. Humans simply make the rules, divide the cows into classes according to age and weight, and act as referees.
Pleasure
With some 500 hectares of vines, the Valais is the biggest wine-growing region in Switzerland. It provides ideal conditions for more than 60 varieties, which are used to make numerous well-known wines.


A little-known fact is that the Dalai Lama himself has a property here. Farinet is the smallest officially recognized vineyard in the world, producing 1,000 bottles a year that are sold to benefit charitable causes. And if you haven't already tried it, a glass of white wine is the perfect accompaniment to raclette or fondue after a long hike.
Places to Stay
How about staying in a traditional chalet, prepared for you with lots of attention to detail? It's a tempting prospect. They may be a common sight in the Valais, but no two chalets are alike. Why not browse our website for inspiration?
Discover Switzerland with our host offers
Book Unique Rooms, Apartments and Activities, and Experience Hospitality at its Best!
Guaranteed quality for more than 25 years
No reservation fee for booking inquiries
700 rooms, apartments, and out-of-the-ordinary accommodation options
Wide choice of authentic experiences
A personal welcome at the door