See Ibex in the Wild in Graubünden
A year-round destination, Graubünden is a firm Swiss favorite for some local R&R.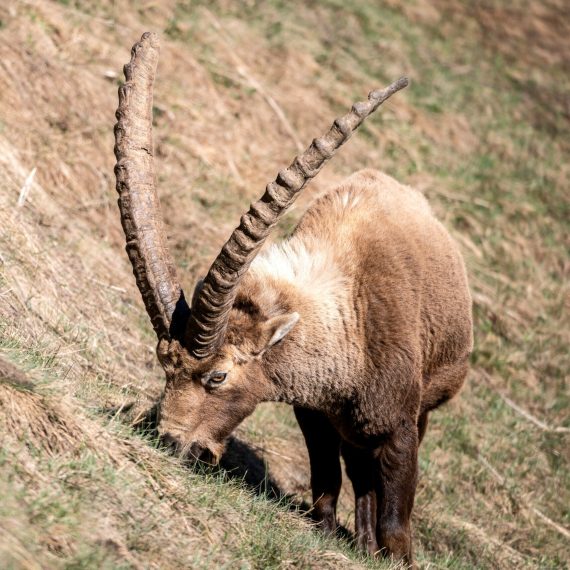 Search, book, and enjoy stunning Graubünden.
A destination as diverse as its languages.
Three out of Switzerland's four national languages are spoken in Graubünden. You'll hear German, Italian and Romansh everywhere, with the latter particularly widely spoken among the native Bündner.
Winter
The Graubünden region is one of Switzerland's most popular winter sports destinations.

Over 40 designated areas invite you to downhill ski, snowboard, sledge, cross-country ski, and snowshoe. All of the activities and amenities that today's visitors expect are found alongside wild, untouched nature. The magical mountain setting is also the perfect place to slow down, catch some sun, and enjoy life. Those with a real thirst for adventure can go for the adrenaline rush of hurtling 1,722 meters down the Olympic bobsled run in St. Moritz. Thundering along at top speed of up to 135 kph, it takes just 75 seconds to reach the finish line.
With white being the dominant color of the long Graubünden winter, keen golfers even play snow golf with red balls on white 'greens'.
Summer/Fall
The Rhaetian Railway (RhB) is another favorite. Its iconic red trains are unmistakable even from a distance as they wend their way elegantly past breathtaking backdrops on their way to the region's most beautiful places. And yes, they do run on time. In the warm summer months the area is perfect for hiking (check out the family-friendly Globi and marmot trails), mountain-biking, cycling, golfing, climbing, mountaineering, and canoeing. We also recommend visiting the Safien Heritage Museum, Tarasp Castle, or an old silver mine.
Don't miss the fabulous changing colors of October and November, when the larches turn golden orange and the scenery is transformed into a fairytale setting.
Bed and breakfast accommodation lovingly run by your host family adds that little extra to your stay. Arrive back after a packed day to a cold drink/beer/wine on the terrace or balcony. Your hosts will be happy to suggest more fun things to do tomorrow.
Discover Switzerland with our host offers
Book Unique Rooms, Apartments and Activities, and Experience Hospitality at its Best!
Guaranteed quality for more than 25 years
No reservation fee for booking inquiries
700 rooms, apartments, and out-of-the-ordinary accommodation options
Wide choice of authentic experiences
A personal welcome at the door