Stay in St. Gallen
St. Gallen – the city of a thousand steps – is situated between Lake Constance and the Appenzell region, and is known primarily for its baroque cathedral and historic Abbey Library.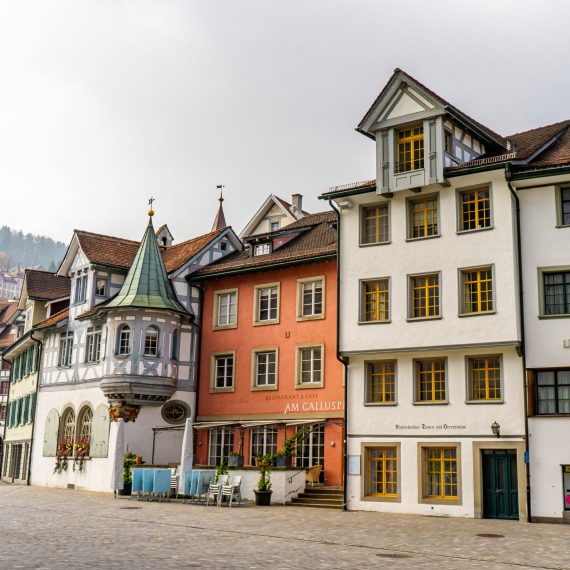 No results
St. Gallen is where young and old meet. Despite its compact size it offers all of the amenities of a major city.
St. Gallen, with around 80,000 inhabitants, capital of the canton with the same name, is also called the "City of a Thousand Steps", because numerous stairs lead to Freudenberg and Rosenberg. Here you will find the University of St. Gallen, one of the most prestigious universities of economics in Europe. St. Gallen, elevation 669 m, is one of the highest cities in the country and is considered a cultural and economic centre of eastern Switzerland.
Its landmark is the baroque cathedral with the imposing twin-towered facade. The cathedral belongs to the abbey that was added to the list of world cultural heritage by the UNESCO in 1983, as was the monastery library, which is among the oldest and most beautiful in the world and has a portfolio of about 175,000 volumes. In addition to valuable books and manuscripts, perhaps St. Gallen's best kept secret and most precious attraction is the mummy of Schepenese, an Egyptian priest's daughter who lived around 650 to 610 BC.
The city has also become world famous for the St. Gallen embroidery. Historically, the textile industry was the most important, and even though it has unfortunately lost some of its prominence, it remains one of the largest export industries in St. Gallen. Still today, ornate bay windows in the old town remind us of the textile merchants and their travels in the 18th and 19th centuries, which led them around the world. Another important industry of the area is tourism.
Thanks to the surrounding countryside with numerous hiking and biking trails, plus its location near Lake Constance with all its attractions, St. Gallen is an ideal starting point for families. Many leisure activities area available, including the wildlife park Peter and Paul, Freizeit Säntispark, Aviation Museum Altenrhein, and rope park Gründenmoos. And with luxury hotels, inexpensive apartments, charming rooms, bed & breakfasts with a personal touch and ideally-located private accommodations, St. Gallen offers for every guest an ideal place to stay over night.
Book Unique Rooms, Apartments and Activities, and Experience Hospitality at its Best!
Guaranteed quality for more than 25 years
No reservation fee for booking inquiries
700 rooms, apartments, and out-of-the-ordinary accommodation options
Wide choice of authentic experiences
A personal welcome at the door