Stay in Sunny Locarno
With sunshine, water, palm trees, and a mild climate, Locarno has an almost magical Mediterranean appeal. And what attracts international visitors also draws the Swiss, as the perfect domestic destination for some R&R.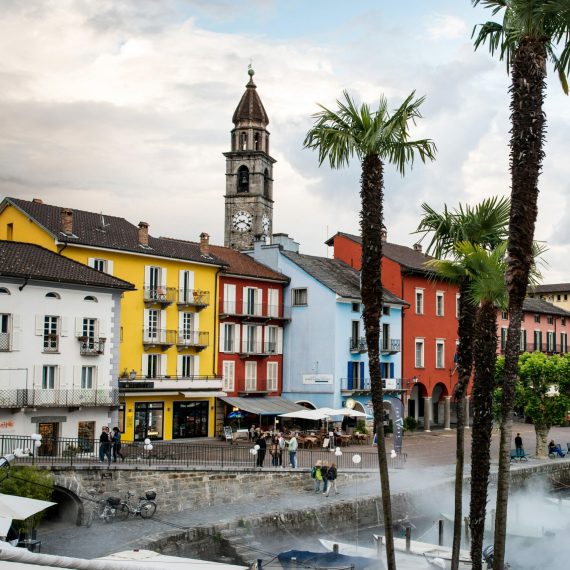 While away the hours at the lake during the day, and in the evening venture into the old town's buzzing nightlife. Romantic accommodation awaits both in and around Locarno.
The sunny city of Locarno is located on the northern shore of Lake Maggiore in the canton of Ticino. It has about 15,000 inhabitants and is one of the warmest cities in the country. With around 2300 hours of sunshine per year, mild temperatures, and Latin charm, Locarno attracts many guests from around the world.
The picturesque town offers a wide selection of hotels, charming bed & breakfasts or ideally-located apartments in every price range, plus cosy rooms or private accommodations. One of the first harbingers of spring is the camellia, and Locarno traditionally welcomes the new season with the Festival of Camellias, the most important European event of its kind, which includes the International Camellia exhibition.
A special gem is the splendid Camellia Park, one of the largest in Europe, featuring almost 1,000 different varieties. Every year, Locarno provides an impressive backdrop for the International Film Festival and the award ceremony of the Silver and Gold Leopard. During the 11-day event, the Piazza Grande transforms its artistically-painted facades and arcades into the most beautiful movie theatre in the world. In the summer, numerous open-air concerts take place here. In July (among other events) is the famous music festival "Moon and Stars".
The streets of the old town invite you to stroll, and culinary delights can be enjoyed in the many cafes and restaurants. If the hustle and bustle of the city is too much, you can take the cable car up to the most important pilgrimage church in the Italian part of Switzerland, the Sanctuary "Madonna del Sasso" in Orselina. From this location, one will enjoy an unforgettable view of the lake and the city's treasures.
Book Unique Rooms, Apartments and Activities, and Experience Hospitality at its Best!
Guaranteed quality for more than 25 years
No reservation fee for booking inquiries
700 rooms, apartments, and out-of-the-ordinary accommodation options
Wide choice of authentic experiences
A personal welcome at the door