Stay in and around Aarau
Search, book and stay in the north of Switzerland, where you can explore the Aargau region, with its many thermal and saltwater baths. Its famous castles and grand houses stand witness to a fascinating past.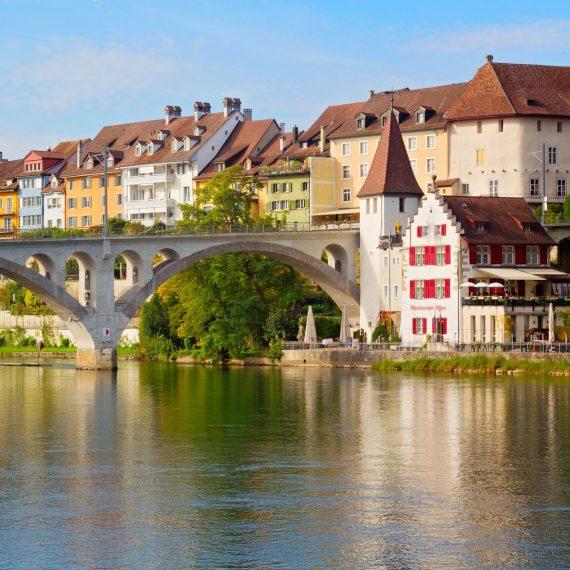 Castles and grand houses are just waiting to be discovered.
Stay in a region that has so much to offer, including thermal baths and family-style accommodation.
From its origins in Aargau, the noble Habsburg family made its mark in many ways. The foundation stone for Habsburg Castle – actually two castles – was laid in 1030. It is the ancestral seat of the Habsburg dynasty to which it gave its name. Following its glorious rise to power in the late Middle Ages, the family presided over a empire that spanned the world.
Anyone who is more interested in witnesses to prehistoric times should head to the Sauriermuseum Frick dinosaur museum. The display includes the fossilized skeleton of a Plateosaurus that was found in the local clay pit. It's fun for young and old alike. Meanwhile, the thermal baths at Bad Schinznach and Bad Zurzach, and the saltwater baths at Rheinfelden, offer a relaxing spa experience.
If you want to surprise your nearest and dearest with a very special day out, book a visit to the enchanting moated Hallwyl Castle. Follow it up with a boat trip on the beautiful Hallwilersee. Building on its shores is banned, and the path around the lake leads through some impressive, untouched countryside.
A wide choice of accommodation in Aarau and the surrounding region means no shortage of places to put your feet up after an exciting day. When you book, add any children in your party at the end, but please note that those who need their own bed should be counted as adults when you send your booking inquiry. You can ask about reductions and additional beds during the booking process.
Discover Switzerland with our host offers
Book Unique Rooms, Apartments and Activities, and Experience Hospitality at its Best!
Guaranteed quality for more than 25 years
No reservation fee for booking inquiries
700 rooms, apartments, and out-of-the-ordinary accommodation options
Wide choice of authentic experiences
A personal welcome at the door