Official Classifications for Rooms and Apartments
Optimum market positioning is almost impossible without a star rating. That's particularly true where accommodation is concerned. The official classifications create transparency and help guests to navigate the jungle of different reviews.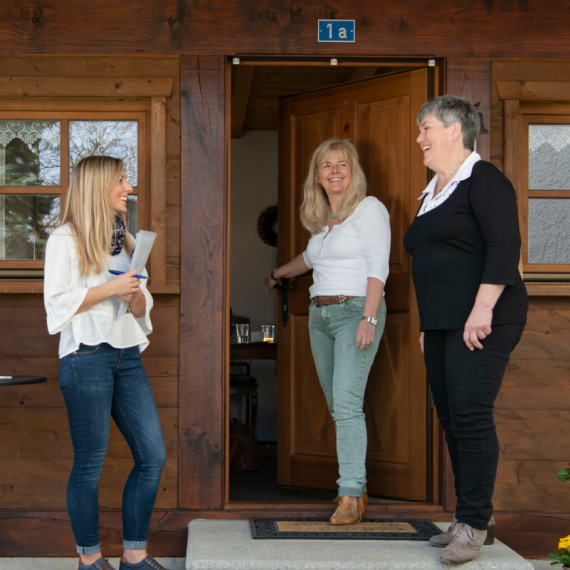 All certification options for rooms and apartments.
Classifications enable guests to compare options while helping to raise accommodation standards in the Swiss tourism sector. Private accommodation and small businesses can sign up to receive between one and five stars. We distinguish between bed & breakfasts (B&B), guest rooms, and apartments.
Classification has a number of benefits, for both guests and accommodation providers.
It offers clarity about what exactly is on offer, and to which category the accommodation belongs. That makes it easier for guests to compare places to stay. Classification helps them to make a decision because it gives an idea of what they can expect from a given B&B. As a rule, the higher the category, the higher the level of service, facilities and comfort guests will find. That, in turn, enables guests to plan with certainty, because they are fully informed. Naturally, star classification is also a valuable marketing tool that providers can use to set themselves apart from the competition in an enormous market.
Trust and assurance
Having your accommodation classified creates trust and offers guests a certain degree of quality assurance, because classification is based on facts and not on opinions. It can also be difficult for guests to tell from the internet how genuine privately offered accommodation really is, especially when they are in a foreign country. Independent classification can therefore help to boost trust in your property.
The differences

Bed & Breakfast
You are there in person, and breakfast is always available.
You offer rooms and/or apartments.
Classification is online as part of the registration process.

Guest Rooms
You are there in person. Breakfast is not or only partially available.
You offer rooms.
Classification is online as part of the registration process.

Holiday Apartments
You are there in person. Breakfast is not or only partially available.
You offer apartments/studios.
Classification is via the Swiss Tourism Federation or the classification office responsible.
We help you take your accommodation to the next level and offer your guests an unforgettable experience
Getting classified is easy. First, set up a profile on bnb.ch and complete the classification form. Classification is based on providers' own declarations. We know that, as a host, you invest a great deal of time and energy in offering your guests a lovely place to stay, and we want to help you reap the rewards of those efforts.
Once you have completed the independent declaration, our BnB Switzerland staff will mark your accommodation ready for inspection. One of our inspectors will then get in touch with you and arrange an appointment. During an inspection, we check that the accommodation meets the criteria stated by you, and that everything meets the standards that you have given. Please note that, for environmental reasons, it may take several weeks or months before the inspection actually takes place. This is because our inspectors try to group and coordinate appointments within the same region as best they can.
If, for any reason, you are not happy with the outcome of the classification process, please do not hesitate to get in touch. We will do our best to ensure that you are ultimately satisfied with the result.
...more than just a few stars
Our experienced inspectors have a keen eye for detail. In addition to checking your accommodation from top to toe, they will give you useful tips on how to make it even better so you can generate even more bookings and have even more delighted guests.
Following the inspection you will receive a certificate from us that confirms your classification, and shows your guests that you offer a verified Swiss-level standard.
We look forward to working with you and to making your accommodation one of the best in your area. Please contact us at any time if you have any questions or need more information.