Visit Zurich – a Global Financial Center
Zurich has it all – pretty narrow streets on the Limmat, world-renowned shopping, internationally recognized universities, a lake with a view of the mountains, thriving nightlife, and great accommodation for every budget.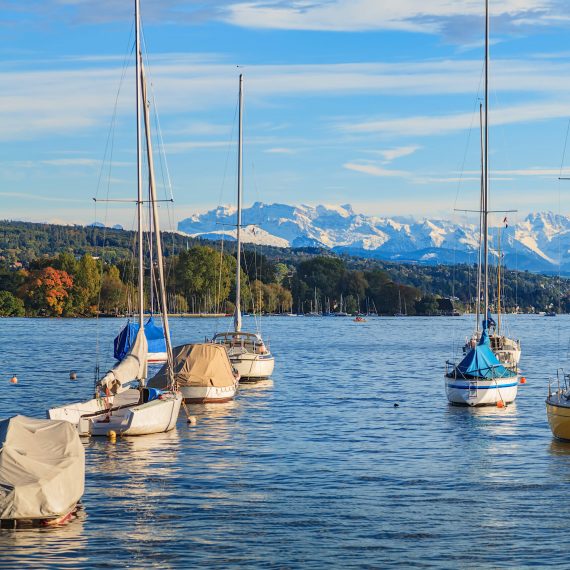 Accommodation for every budget in Zurich
Zurich: Perfect for families, business travelers, friends, and couples.
Zurich is the largest city of Switzerland with a population of approximately 400,000 and, along with Geneva, ranks as one of the cities with the world's highest quality of life. Zurich is greatly appreciated by holiday and business travellers thanks in part to its central location at the Lake of Zurich, featuring a beautiful view of the Alps. Zürich is not only an economic metropolis and one of the most important financial capitals of the world, but it is also a research and knowledge centre, hosting two internationally-recognized universities (University of Zurich and ETH).
Above all though, Zurich is considered a shopper's paradise. Especially popular with locals and tourists is the famous Bahnhofstrasse, one of the world's most exclusive shopping promenades. The elegant shops, luxury boutiques, jewellery and watch shops stretch from the main station to the Bürkliplatz, located on the lake.
Not far away, on both sides of the Limmat, one can find the old town with its picturesque narrow streets, small galleries, and traditional guild houses. Major attractions include the Romanesque Grossmünster (starting point for Zwingli's reformation), the Renaissance-style town hall, gothic Predigerkirche, and the Fraumünsterkirche with windows by Chagall. Internationally-renowned artists perform at the Opernhaus (opera house), in the Tonhalle (music hall), and in the Schauspielhaus (theatre). With more than 50 museums and 100 galleries, Zurich is an important art and cultural centre.
Additionally, the city offers a varied nightlife plus a wide selection of excellent restaurants. You will also find a wide range of accommodations in all categories. From luxury hotels to apartments, individual rooms or charming private accommodations, bed & breakfasts or studios, and from culinary to cultural treats, Zurich has something to offer for every taste.
Discover Switzerland with our host offers
Book Unique Rooms, Apartments and Activities, and Experience Hospitality at its Best!
Guaranteed quality for more than 25 years
No reservation fee for booking inquiries
700 rooms, apartments, and out-of-the-ordinary accommodation options
Wide choice of authentic experiences
A personal welcome at the door