Dolce far niente in sunny Ticino
Discover dreamy accommodation with southern charm in Ticino. A mild climate, palm trees, and Italian flair make this region something special.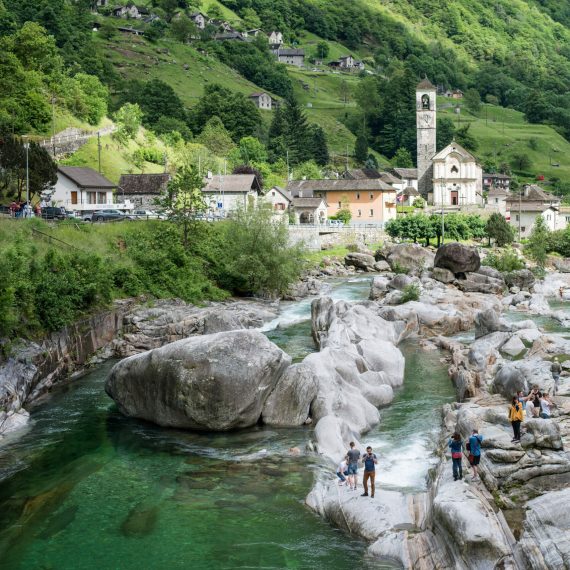 Enjoy Italian flair.
You'll find a Mediterranean climate, narrow alleyways, pastel-painted houses, hidden valleys, palm-lined lake shores, and lots and lots of sun. There's a good reason that the Swiss refer to Ticino as the nation's sunroom. Whether you fancy drinking wine from a boccalino at one of the many grottoes, or enjoying an aperitif on the promenade at Ascona, the climate is so mild you can do so any time.
From spring to fall, the best way to see the region is on two feet or two wheels. There's climbing, hiking, gentle walking, mountain-biking, and cycling just for starters – choose an activity that suits your fitness level! When you want to cool off or go for a swim, try Lake Maggiore, Lake Lugano, or the crystal-clear Maggia river.
In the spring and fall in particular, the Gotthard, Nufenen, San Bernardino and Lukmanier passes are all popular with motorcyclists, who come to fall in love with breathtaking panoramas and the romantic wilderness in harder-to-reach places.
Winter holidays on the superb ski and sledge runs of the Ticino mountains are still something of an insider's secret. Ticino might be thought of as the warmest canton in Switzerland, but there are still plenty of excellent winter sports facilities here.
The region is a major draw for families, couples, solo travelers, and groups of friends alike. Choose from classic bed and breakfast accommodation, holiday apartments and homestays – with or without breakfast.
Discover Switzerland with our host offers
Book Unique Rooms, Apartments and Activities, and Experience Hospitality at its Best!
Guaranteed quality for more than 25 years
No reservation fee for booking inquiries
700 rooms, apartments, and out-of-the-ordinary accommodation options
Wide choice of authentic experiences
A personal welcome at the door