Magical Places to Stay in the Lucerne–Lake Lucerne Region
Hiking, biking, or shopping? Or a city stroll after a sumptuous meal? Visit the heart of Switzerland and discover the diversity of a region of inspiring mountain views and glittering lakes.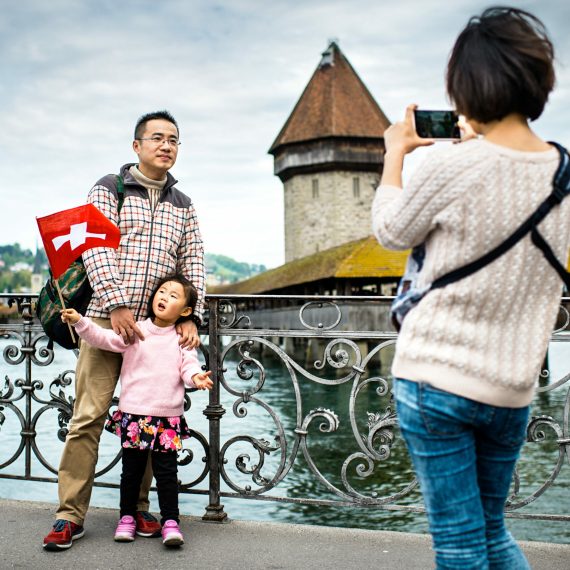 Culture and nature for groups, families, couples, and solo travelers
Visit the region where, as legend has it, the Swiss Confederation was formed on 1 August 1291, as a loose alliance of three valley communities – Uri, Schwyz and Unterwalden. That is why Switzerland celebrates this date as its official national holiday.
Set deep amid stunning scenery, Lake Lucerne looks in places like a Norwegian fjord. Its surrounding mountains just call out to be climbed. How about a trip to the top of Lucerne's local peak, Pilatus, or an unforgettable ride on the double-decker Cabrio cable car up the Stanserhorn? Arriving at the summit, guests will meet rangers who are happy to explain all about the fascinating flora and fauna of this nature reserve. With a bit of luck, you might even spot a marmot. Alternatively, drive east into the Muotathal valley, where the world's steepest funicular will take you to the high, sun-drenched plateau of Stoos in just four to seven minutes.
For your ascent up the Rigi – the queen of mountains – you have a choice of a cog railway or cable car. Situated between Lake Lucerne and Lake Zug, the mountain range gets its name from its horizontal stratification (Riginen). These bands of rock and grass surround the summit in an arc from west to east and are visible from miles away. At almost 1,800 meters, the Rigi offers a spectacular view across the Alps and Switzerland's central plateau, as far as the Jura to the north.
If you've had enough hiking and biking, combine your exertions in the mountains with an excursion on the water. Five historical paddle steamers and 15 elegant pleasure cruisers take you to some of the loveliest places on Lake Lucerne.
The region is also home to the world-famous KKL Lucerne Culture and Congress Centre. It offers 19 venues for meetings, congresses, conferences, and cultural events that attract around half a million visitors each year to this impressive building.
Discover Switzerland with our host offers
Book Unique Rooms, Apartments and Activities, and Experience Hospitality at its Best!
Guaranteed quality for more than 25 years
No reservation fee for booking inquiries
700 rooms, apartments, and out-of-the-ordinary accommodation options
Wide choice of authentic experiences
A personal welcome at the door