Enjoy a stay in Lausanne on Lake Geneva
This picturesque city by the lake has plenty to offer business travelers, families, culture lovers and gourmets alike. The interplay of urban charm and wide open green spaces make Lausanne unique. It is particularly well known for its surrounding terraced vineyards.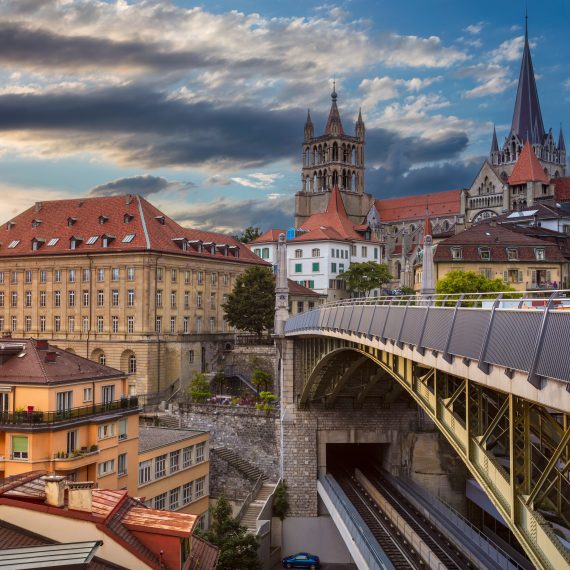 This is where you'll find delightful B&Bs in Lausanne.
Lausanne, the Olympic capital, is also a dynamic and lively business, convention and cultural city.
Capital of canton Vaud and home to just under 140,000, Lausanne's small size belies its position in the world. Its location on the shores of Lake Geneva offers a breathtaking view of the Swiss and Savoy Alps.
The city is encircled by terraced vineyards that flank outward along the lake. A UNESCO World Heritage Site, they invite visitors to taste their wines or to take time for an energising walk.
Lausanne may have an enchanting old town full of boutiques and shops offering local specialties, but another major draw are its many parks and impressive architecture. Perhaps the largest and best-known is the majestic cathedral, which dominates the skyline in the heart of the city. Lausanne is built on a hill, so the easiest way to get around is by Switzerland's first (and so far only) metro.
To really enjoy the beauty of Lausanne, it is worth staying overnight in a great value apartment or charming room with or without breakfast. Your hosts are sure to have a few more insider tips for you!
Discover Switzerland with our host offers
Book Unique Rooms, Apartments and Activities, and Experience Hospitality at its Best!
Guaranteed quality for more than 25 years
No reservation fee for booking inquiries
700 rooms, apartments, and out-of-the-ordinary accommodation options
Wide choice of authentic experiences
A personal welcome at the door