Become a Host
Become a BnB Switzerland host, and share your passion with the world! Make your dream finally come true, and get to know new guests and new cultures.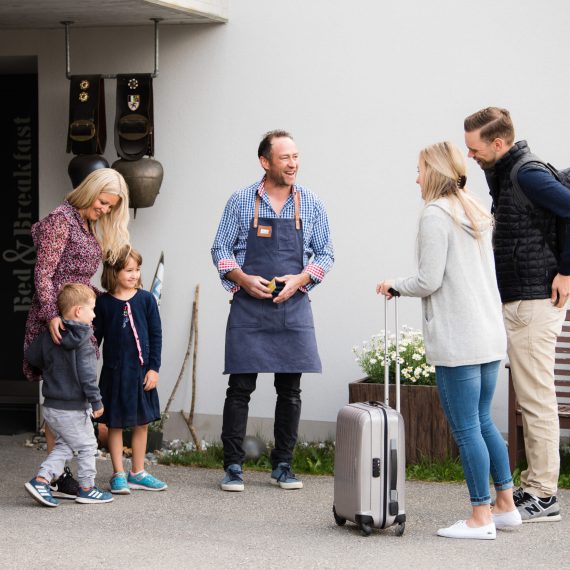 At BnB Switzerland, we make everything personal.
You offer the hospitality, we do the rest:
50 % of guests are from Switzerland
Fixed (budgetable) membership costs
Recognized star classifications (1-5*)
Linked with MySwitzerland.com
External representation for your interests
No booking commission
Freedom: set your own payment and cancellation terms
Support in important situations
Free annual seminars, incl. experience-sharing
Templates and tools for download
Variety of discounts
...and much more
Whether you rent a room or an apartment, with or without breakfast – if your accommodation sleeps up to 35, you're in exactly the right place.
B&B is booming
No other type of accommodation has experienced such a boom in recent years. While hotel stays in most regions have declined, providers of private guest rooms and apartments have reported a spectacular rise in demand. Guests include both tourists and business travelers.
"Many people no longer want to, or can, pay for expensive hotel rooms."
Far removed from mass tourism, this kind of accommodation also gives guests the opportunity to explore less well known places, and to experience local life as it really is.
This type of travel is perfect for what's needed, now.
Rules and Quality standards
This accommodation sector still has rules and quality standards, however. Anyone wishing to become a member of BnB Switzerland must comply with the relevant legal requirements, pay the tourism levy, and be on site for their guests. In addition, each property is classified and checked over personally by experienced inspectors. In return, we market your accommodation and support our hosts in a whole range of areas.
A strong ally in BnB Switzerland
A great deal was up in the air at the beginning of the COVID-19 pandemic, especially. What rules apply to shared bathrooms? How much should be refunded if the guest can't travel? Can we still offer breakfast?
Regular updates and model safety concepts prepared in advance gave clarity and reassurance.
"Working with you is really fun. We've found it a huge help that you've always supplied us with the latest safety concepts that can be adapted so quickly."
BnB Switzerland is a member of Switzerland Tourism, partner of the Swiss Tourism Federation (STV–FST), and a co-founder of the Parahotellerie Schweiz interest group along with Reka, TCS Camping, HHD Group (Interhome) and Swiss Youth Hostels.
---
Fixed-cost membership
Rent your double room three times and you've already covered your fixed costs.
The annual fee for providers whose accommodation sleeps 1–3 is CHF 264.00 (Budget option) or CHF 314.00 (Basic). If your nightly rate for a double room is CHF 90.00, you'll cover your costs in just three or four nights. The fixed fee also makes it easy to budget for your costs. There is no booking commission.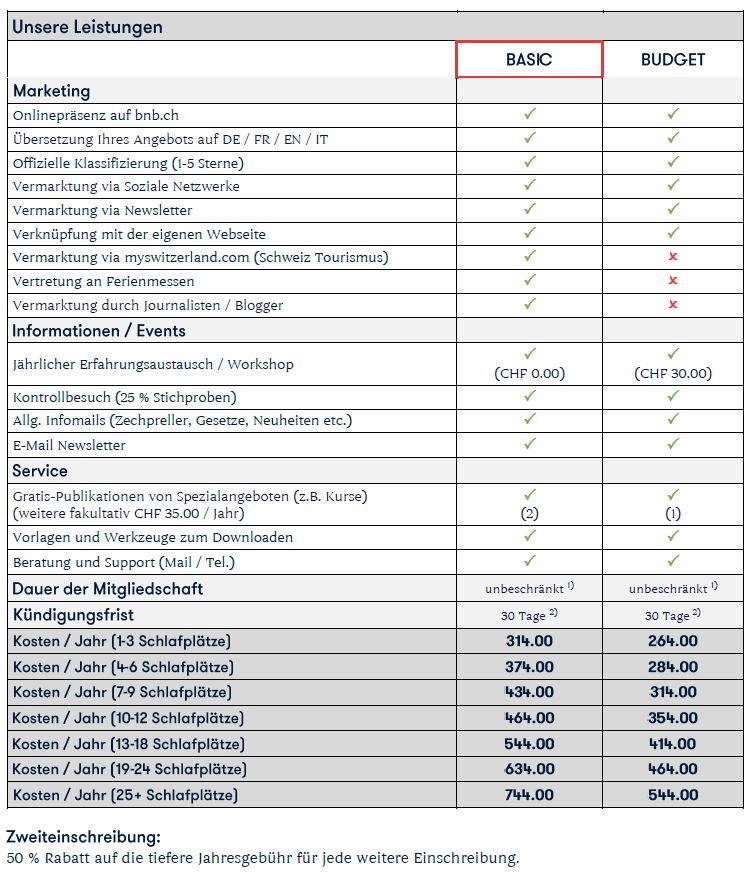 ---
We distinguish between...
Do you offer several accommodation options?
If all of these options are the same (e.g. all include breakfast = B&B), the rooms and/or apartments can be entered under one profile. If they differ (e.g. a certified apartment and a certified guest room), then a separate profile must be created for each certificate.